Mark Bennett writes:
I started learning the flute in 2004 with Anne Kimber and then Jonathan Morgan.  Unlike most people, I began with the wooden baroque flute and moved onto modern flute later, because it was the flute music of Bach, Handel and Vivaldi that I loved first.
With young learners whose arms are too short for the flute, lessons begin on a plastic fife.  This can also be a good way for anyone to have a trial period, seeing if they can make a sound from a flute but only having to spend a few pounds on an instrument.  My youngest student was six when he started with me on the fife.  Within six months he was ready for a real flute.  Because of his short reach, we started with a curved headjoint.  It took him a year to go from scratch to grade 1 standard - with his mother in the lesson and then supervising his practice at home, he made excellent progress.
With learners who already play another wind instrument, the fingerings are quick to learn, so the embouchure is the main focus of lessons.  Here, my Pneumo Pro is a real help, as it gives clear feedback on the air stream shape and direction and allows rapid self-correction.
With learners who already play the flute, we start with a careful check through grip and posture.  Musicians should be comfortable when they play, so I use my knowledge of Alexander Technique and anatomy to help players find ways of playing that minimise tension.  Speed and agility on the instrument come from mechanically efficient movement.  We also work on understanding memory, not only to memorise pieces, but also to assemble individual notes into sequences of "muscle memory" (procedural memory), so that there is no such thing as a passage you can't play - only a passage that you haven't finished practising yet!  The most important thing, I think, that my students learn from me is how to practise - that makes them independent of me.  Once a learner understands what practice is for and has the discipline to do it regularly, lessons become coaching sessions with me as a "critical friend".
I love playing in ensembles, so duets are always a feature of lessons.  I have a piccolo for orchestral playing, but also an alto and a bass flute, and I get a real thrill from sultry warmth of these big flutes.  Once a few alternative fingerings have been learned and the embouchure size and direction adjusted, these flutes open up the world of flute choirs to advanced learners.
For players who want to specialise in early music, it is a real joy to share my passion for early flutes.  We get to grips with the fingering for the specific instrument you are playing, and ultimately will chart out the intonation adjustments needed for each note, so that you can play exquisitely in-tune on these notoriously out-of-tune instruments.  As well as the instrument itself, there is the fascinating detective work of finding out what players and composers expected at different points in time and in different countries.  Whether it's improvised divisions in the 16th century, florid Italianate and crisp French baroque ornamentation, or devising a concerto cadenza that Mozart would have felt at home with, there is always gripping journey into the unwritten music between the notes.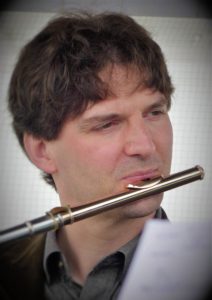 Links:
Just Flutes - flute shop in London
John Packer - woodwind shop in Taunton
The Early Music Shop - all early instruments, based in Bradford and London
Larry Krantz's homepage - a very well linked site for flute articles and tutorials
Nina Perlove - an online flute guru with a YouTube site full of free flute lessons and interesting vlogs
South West Flutes - a hub page with concerts, flute choir events and teachers
Lucy Annetts Musical Instrument Repairs - Ivybridge-based repairs for woodwind and brass instruments
Flutehistory.com - a detailed website on the history of the flute, its music and its performers
Flute Resources for Theater and Opera - a history of the flute and links for flute technique
Interested in other instruments?  You can explore the sounds of 100 instruments here (My favourite is the duduk).  Thanks to Piper Marcellino for the suggestion!